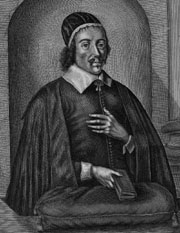 At two o'clock in the afternoon on Friday, August 22, 1651, the great Puritan minister Christopher Love ascended the platform of the scaffold at Tower Hill, London.  He was accompanied by fellow ministers, Thomas Manton, Simeon Ashe, and Edmund Calamy.  His life was to be cut short at 33 years of age due to alleged involvement with a plan to raise money for the restoration of the monarchy, a charge Love denied.  Believing that his death would glorify God, these were among his last words: "I do more good by my death than by my life, and glorify God more in my dying upon a scaffold than if I had died of a disease upon my bed."
Prior to his execution, Love prayed for his accusers, for the Church, for England and Scotland to be one, and for the friend who was to be executed after him.
I found his submission to the will of God and prayer so inspiring:
"Most glorious and eternal Majesty, Thou art righteous and holy in all thou dost to the sons of men, though thou hast suffered men to condemn Thy servant, Thy servant will not condemn Thee.  He justifies Thee though Thou cuttest him off in the midst of his days and in the midst of his ministry, blessing thy glorious name, that though he be taken away from the land of the living, yet he is not blotted out of the Book of the Living.  Father, mine hour is come.  This Thy poor creature can say without vanity and falsehood.  He hath desired to glorify Thee on earth; glorify Thou now him in heaven.  He hath desired to bring the souls of other men to heaven; let his soul be brought to heaven.
"O Thou blessed God, whom thy creature hath served, who hath made thee his hope and his confidence from his youth, forsake him not now while he is drawing near to Thee.  Now he is in the valley of the shadow of death, Lord, be Thou life to him.  Smile Thou upon him while men frown upon him.  Lord, Thou hast settled this persuasion in his heart that as soon as ever the blow is given to divide his head from his body he shall be united to his Head in heaven.  Blessed be God that Thy servant dies in these hopes.  Blessed be God that Thou hast filled the soul of Thy servant with joy and peace in believing.
"O Lord, think upon that poor brother of mine, who is a companion in tribulation with me, who is this day to lose his life as well as I.  O fill him full with the Holy Ghost when he is to give up the ghost!  Lord, strengthen our hearts that we may give up the ghost with joy and not with grief.
"We entreat Thee, O Lord, think upon Thy poor churches. O that England might live in Thy sight!  And O that London might be a faithful city to Thee!  That righteousness might be among them, that peace and plenty might be within her walls and prosperity within their habitations.  Lord, heal the breaches of these nations; make England and Scotland as one staff in the Lord's hand, that Ephraim may not envy Judah, nor Judah vex Ephraim, but that both may fly upon the shoulders of the Philistines.  O that men of the Protestant religion, engaged in the same cause and covenant, might not delight to spill each other's blood, but might engage against the common adversaries of our religion and liberty!  God, show mercy to all that fear Thee.  The Lord think upon our covenant-keeping brethren of the Kingdom of Scotland; keep them faithful to Thee, and let not them that have invaded them overspread their whole land.  Prevent the shedding of more Christian blood if it seems good in Thine eyes.
"God show mercy to Thy poor servant who is now giving up the ghost.  O blessed Jesus, apply Thy blood not only for my justification unto life, but also for my comfort, for the quieting of my soul so I may be in the joys of heaven before I come to the possession of heaven!  Hear the prayers of all Thy people that have been made for Thy servant, and though Thou hast denied prayer as to that particular request concerning my life, yet let herein the fruit of prayer be seen, that Thou wilt bear up my heart against the fear of death.  God show mercy to all that fear Him, and show mercy to all who have engaged for the life of Thy servant.  Let them have mercy at the day of their appearing before Jesus Christ.  Preserve Thou a godly ministry in this nation, and restore a goodly magistracy, and cause yet good days to be the heritage of Thy people for the Lord's sake.
"Now, Lord, into Thy hands Thy servant commits his spirit; and though he may not with Stephen see the heavens open, yet let him have the heavens open.  And though he may not see upon a scaffold the Son of God standing at the right hand of God, yet let him come to the glorious body of Jesus Christ and this hour have an intellectual sight of the glorious body of his Saviour.  Lord Jesus, receive my spirit and, Lord Jesus, stand by me, Thy dying servant who hath endeavoured in his lifetime to stand for Thee.  Lord, hear, pardon all infirmities, wash away his iniquities by the blood of Christ, wipe off reproaches from his name, wipe off guilt from his person and receive him pure and spotless and blameless before Thee in love.  And all this we beg for the sake of Jesus Christ.  Amen and Amen."
Christopher Love knew how to live well, and to die well.  He was another servant of Christ of whom the world was not worthy.  As his dear wife Mary said of him, "He lived too much in heaven to live long on earth."
Christopher Love's prayer is excerpted from Don Kistler's A Spectacle Unto God: The Life and Death of Christopher Love.